Trust Should Be a Two-Way Street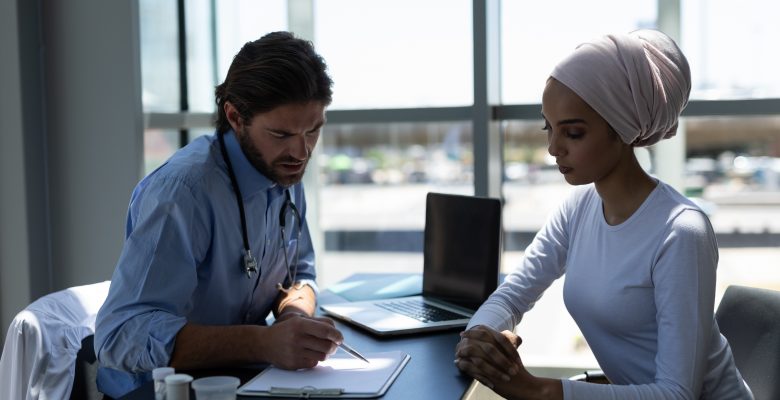 December 8, 2020
"It took me a long time to find a doctor that actually believed me. I was walking around in pain for five years because nobody believed me. Why did I have to suffer for so long? Why did no doctor believe the pain that I was in?"
When researchers and clinicians talk about trust in health care, they are almost always talking about patients' trust in physicians. But patients can suffer when doctors do not trust them, as the woman quoted above explained in a focus group that Public Agenda conducted for a project about making care more patient-centered, in partnership with AcademyHealth and the Robert Wood Johnson Foundation (RWJF).

In October 2020, Public Agenda released findings from representative surveys that compared the perspectives of people insured by Medicaid and the primary care physicians who treat them about what can build and damage mutual trust. The report, titled "A Two-Way Street: Building Trust Between People with Medicaid and Primary Care Doctors," was one of eight projects about building trust funded by RWJF.

Public Agenda's survey findings show that most people with Medicaid and most primary care physicians who treat them believe that it is important both for doctors to trust their patients and for patients to trust their doctors. The research also found that most of these physicians and most people with Medicaid think doctors and patients should be equally responsible for building trust
"As a result of the trust, you have good outcomes because the patient will adhere to the regimen, will come back to see you, will trust your judgment. But you have to gain the trust."
The research found that most primary care doctors (79 percent) feel that their patients with Medicaid are just as trustworthy as their patients with other types of insurance. But if someone anticipates that doctors will mistrust them, it could be hard to forge healthy doctor-patient relationships. In fact, only about half of people with Medicaid (46 percent) think that primary care doctors trust people with Medicaid as much as they trust people with other insurance. Twenty percent of them think doctors trust them less, and about one-third say they do not know.
Medicaid covers a relatively high proportion of Black and Latino/a Americans. Several people with Medicaid in focus groups described feeling mistrusted or disrespected by health care providers because of both their race and their insurance type:

"Being on Medicaid is like a public kind of thing. I think that some doctors ain't going to respect people who are on Medicaid like they do private insurance."
"I think that African Americans at times were sort of looked at negatively, like we don't care about our health. And then they see the fact that you might have Medicaid. I think sometimes it does factor into how they perceive you and how they treat you."
What do primary care physicians say affects their trust in people with Medicaid? According to Public Agenda's survey, primary care physicians trust people with Medicaid more when they are actively engaged in their care. For example, most primary care doctors (71 percent) also say they would trust someone with Medicaid more who told them about their goals for their health and well-being. When asked about the two most important things people with Medicaid can do to make doctors trust that they want to do what is best for their health, 56 percent of primary care doctors prioritize providing complete, honest information.
Trust-building behaviors that primary care doctors also prioritize include people with Medicaid having reasonable expectations about their care, following treatment plans and participating in discussions and decisions about their care. The behaviors that primary care doctors say can damage their trust include patients leaving out information, exaggerating symptoms and insisting on specific medications or treatments.
Because primary care doctors express more trust in people who play more active roles in their care, interventions aimed at building patient activation and engagement may have positive effects on providers' trust in patients—an outcome that future research on those interventions should measure. Structuring primary care practices to provide the time and space for good communication can help create the conditions for mutual trust.
Primary care doctors who treat people with Medicaid largely understand that they need to trust patients in order to provide high-quality care. Do other types of medical providers understand this as well? To move health care away from paternalism and toward centering patients, more research and dialogue are needed about how providers' trust in patients correlates with decision-making styles, safety practices and patient outcomes. More research and dialogue are also needed to explore variations in providers' trust in patients comparatively across specialties, physician demographics and patient populations.
How can we ensure that doctors trust patients when they describe their symptoms, worries, behaviors and side effects? With rising COVID-19 cases and deaths, which disproportionately affect people of color, doctors' trust in patients can be a matter of life or death. And with the prospect of a COVID-19 vaccine on the horizon, ensuring that people trust the information and interventions that their doctors are providing will be crucial to safeguarding public health and restarting the economy.
Learn more about these research findings in Public Agenda's report "A Two-Way Street: Building Trust Between People with Medicaid and Primary Care Doctors."
Learn more about Public Agenda's work.