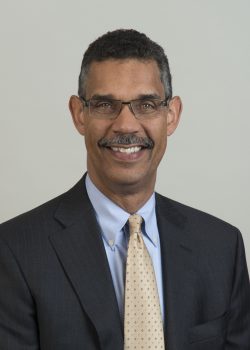 Clarence H. Braddock, III, MD, MPH
December 18, 2015
Dr. Braddock, a board certified internist, is Executive Vice Dean in the David Geffen School of Medicine at the University of California, Los Angeles. In this role, he works closely with the School of Medicine and Health System leadership on strategic initiatives that will more closely align the academic and clinical activities. He also continues his role as Vice Dean for Education, which he assumed in 2013, and continues to hold the Maxine and Eugene Rosenfeld Chair in Medical Education, appointed in 2015. In these roles, he oversees all aspects of medical education, including undergraduate, graduate and postgraduate programs. This structure reflects Dr. Braddock's vision of the medical education continuum, with a seamless connection between competencies and ongoing professional development in different phases of training and practice.
Prior to his current appointments, he served as Professor of Medicine and Associate Dean for Undergraduate and Graduate Medical Education at Stanford University School of Medicine. He was also Director of the Stanford Center for Medical Education Research and Innovation, where he directed the Rathmann Family Foundation Medical Education Research Fellowship.
Dr. Braddock has been a national leader in medical education, particularly in bioethics and doctor-patient communication. He launched the Bioethics Education Project at the University of Washington, an initiative to expand ethics and professionalism education, and the Practice of Medicine program at Stanford, an initiative to integrate ethics, professionalism, doctor-patient communication and population health into the pre-clerkship medical school curriculum. He also led the development of a model curriculum in bioethics and medical humanities with the American Society for Bioethics and Humanities, and is a founding member of the Academy for Professionalism in Health Care. He was named Interim Director of the UCLA Health Ethics Center in 2019.
In the Fall of 2020, Dr. Braddock was appointed as the Executive Director of the DGSOM Anti-racism Roadmap to work with the DGSOM community to develop and advance high-impact change across the school. Dr. Braddock has a long history of commitment to addressing systemic racism in academic medicine.
He has received numerous teaching awards. Dr. Braddock's research has focused on shared decision-making and patient-physician communication, having developed a widely-used framework for teaching and for evaluation of the quality of shared decision making in practice.
Dr. Braddock has served as Chair of the Ethics Committee for the Society of General Internal Medicine and on the Ethics, Professionalism and Human Rights Committee for the American College of Physicians. He was Director of the National Consortium for Multicultural Education for Health Professionals, a group of 18 medical schools funded by the National Heart, Lung and Blood Institute to develop curriculum in cultural competence and health care disparities. He served as Chair of the Board of Directors for the American Board of Internal Medicine from 2015-2017 and currently serves on the Board of Trustees of the ABIM Foundation.
Dr. Braddock earned his undergraduate degree at Stanford University and medical degree at the University of Chicago. He completed residency training in the U.S. Navy and received his master's in public health degree in health care ethics from the University of Washington. He is currently Professor of Medicine at the David Geffen School of Medicine.