The love we saw during the 2021 ABIM Foundation Forum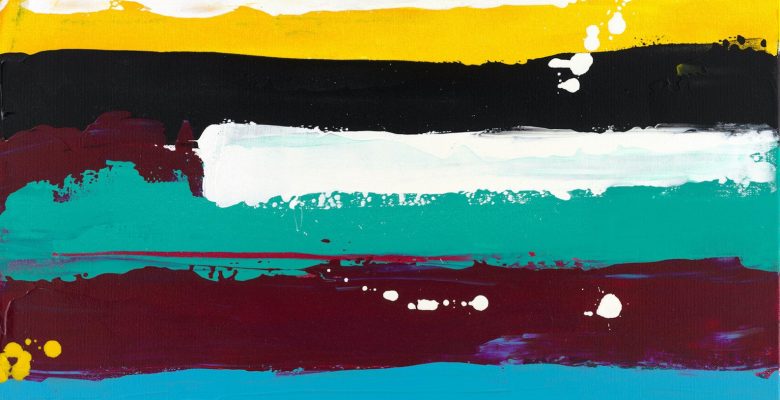 September 21, 2021
At the ABIM Foundation's annual Forum in early August, more than 130 clinicians, advocates and other leaders in health care came together to discuss how health care organizations can act to advance diversity, equity and inclusion (DEI) and engender trust among their patients, clinicians, staff, and from the communities they serve.
Forum participants heard firsthand accounts of how some organizations have acknowledged and addressed disparities within their institutions, and how they're working with their communities to build or rebuild trust. Participants also had open and honest conversations about challenges they've faced in acknowledging and responding to social injustices and disparities.
But what was truly remarkable was the amount of times this influential, diverse group of people discussed love – a topic that we'd argue most people in a professional setting would shy away from, and a topic seldom talked about in health care. The love discussed was not romantic love, but interpersonal love – the feeling that results when you treat other people the way you'd like to be treated, and you authentically care about them as human beings.
Love was mentioned so many times in conversation, during presentations and in the chat that we lost count.
Carladenise Armbrister Edwards, PhD, executive vice president and chief strategy officer of the Henry Ford Health System, told the story of her grandfather's kidnapping by the Ku Klux Klan 100 years ago. The story she painted was filled with racism, hatred, violence and abuse. Her talk encourages listeners to use their own family and personal history to inspire change and commit to making a difference. When reflecting upon her own story, Dr. Edwards said, "I think we need to lead with love. When you lead with love and you take what you actually value and believe as the premise by which you interact with other people, then you can not only inspire change but you can be the impetus for change and the change agent."
Kedar Mate, MD, president and chief executive officer at the Institute for Healthcare Improvement (IHI) used these words: "A few years into the equity journey at IHI we decided to revisit our organizational values. We ended up choosing four words. The first three — trust, equity and love — we talked about at length today in different contexts and in different ways. And the last word we chose was courage. Because without courage we won't be able to take the necessary actions to enhance trust, equity and love. It's time for us to take action and it's time for us to demonstrate the courage we need to take us there."
And love once again resurfaced during the Forum's closing session with Kimberly Manning, MD, associate vice chair of diversity, equity and inclusion of the department of medicine at Emory University School of Medicine, and Bob Wachter, MD, professor and chair of the department of medicine at the University of California, San Francisco, as they reflected on the words of others, particularly around the idea of "moving in love" as we collectively try to effectuate positive change.
Many other Forum participants told stories and reflected on love, some of which they shared publicly: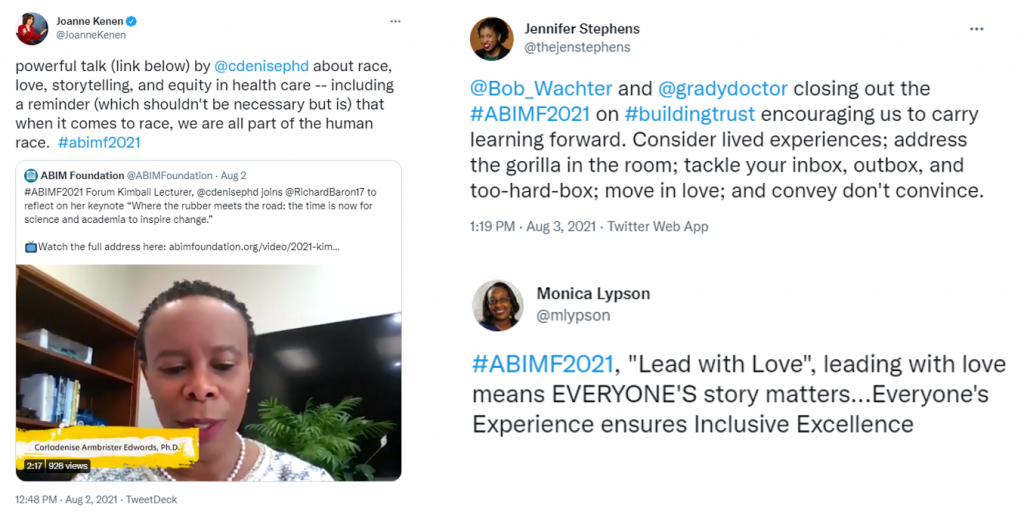 Love was at the center of this year's Forum because this group of people had so many examples of when they felt love; but they also had examples of when they've felt love's antithesis: hatred.
Delores Collins, executive director of A Vision of Change, shared how she has repeatedly experienced unpleasant and unjust situations while seeking health care. Delores and so many of the Forum participants are pleading for love and compassion from the health care system – for themselves, for their patients, and for their staff and family members. They want the system to understand them, feel their pain and emotions, and also have the desire to help them move forward.
We hope that the theme of love that surfaced during the 2021 Forum will serve as motivation for the health care system to provide love, compassion and support to everyone they care for. Love is the antidote to hatred, fear and xenophobia. Too often we lead with the mind only, but we need to lead first with love and compassion. With love in our hearts we can come together to build united communities that care about their neighbors. As Dr. Avedis Donabedian put it, "Doctors and nurses are stewards of something precious. Ultimately, the secret quality is love. You have to love your patient, you have to love your profession, you have to love your God. If you have love, you can then work backward to monitor and improve the system."
More In Letters from the Foundation
View All