Physician Leadership Key to Patient Trust in COVID-19 Vaccine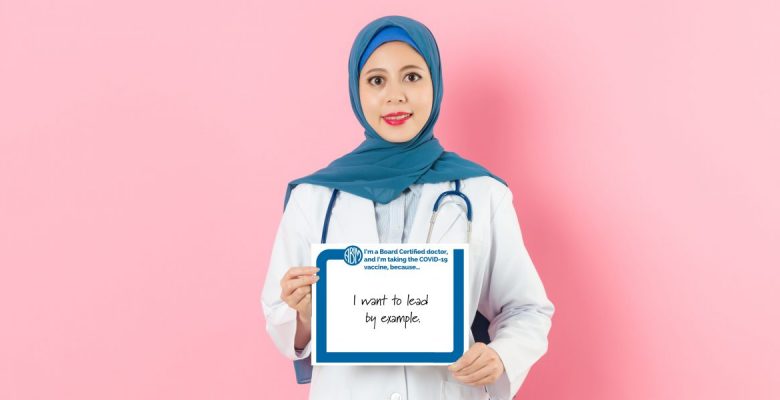 December 16, 2020
A commitment to basing medical practice on scientific knowledge is a core component of medical professionalism. The Physician Charter states that physicians have a duty to uphold scientific standards and that the medical profession is responsible for the integrity of scientific knowledge. As COVID-19 vaccines with proven efficacy and safety are being disseminated to health systems across the nation, physicians now have the opportunity to demonstrate their professional commitments by taking the vaccine—and by sharing that they have done so with their patients and in their wider communities.
We are all aware that there is significant mistrust about the vaccine among the public. This mistrust has many causes: the spread of misinformation on social media, inconsistent and even misleading guidance from elected officials, the unprecedented speed with which these vaccines were developed, and others. Tragically but understandably, members of the Black and Hispanic communities, which have been disproportionately affected by COVID-19, appear to be the least likely to trust the vaccine.
This moment offers physicians the opportunity to lead by example, instilling trust in these crucial vaccines among their patients. While overall trust in the health system may be fractured, Americans' trust and confidence in their doctors, even before the pandemic, ranked higher than the trust individuals place in leaders in business, government, and the media.This trust at the individual level—patient to physician—has likely grown since the pandemic began. Doctors are often viewed as caring navigators and their messages of trust in a COVID-19 vaccine will likely carry more weight than they would coming from a different source. These empathetic messages of trust in the vaccine, which will be rooted in sound science, are vital for patients and, over time, to protect the dedicated frontline staff stepping in harm's way to provide care. As Dr. Fauci has cautioned, 75-85% of Americans will need to receive the vaccine to achieve herd immunity and protect us all.
Yet we saw some evidence during the summer that physicians themselves were hesitant to receive the vaccine. We would hope that physician confidence has increased considerably now that regulatory experts in the Unites States and abroad have scrutinized the evidence for the vaccines' safety and efficacy and approved them for use. If physicians will not lead in this area, we cannot expect patients to follow.
The American Board of Internal Medicine is encouraging its Board-certified physicians both to receive the vaccine when it is available to them and to publicize that they have done so, including through social media. This would be an excellent way to take advantage of physicians' critical role as trust messengers. By leveraging and building personal relationships rooted in trust between patients and their care providers, we can build greater trust in a COVID-19 vaccine and the health system in general.  And we can hasten the end of the pandemic and all the suffering it has caused.
More In Letters from the Foundation
View All