Choosing Wisely® Roadshow: Richer Collaboration with the American College of Radiology
March 16, 2016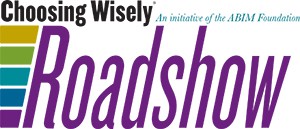 After our first visit with the American Society for Clinical Oncology (ASCO), it was only appropriate that the next meeting of the Choosing Wisely Roadshow would be with the American College of Radiology (ACR). Like ASCO, ACR was one of the original partners of the campaign.
Rather courageously, ACR has become a leader in thinking about and operationalizing smarter imaging decisions. Prior to Choosing Wisely, ACR championed initiatives like Image Gently and Image Wisely which focus patient and physician education around appropriateness.  These two programs came years before the inception of Choosing Wisely in 2012, despite some reports to the contrary (and our subsequent clarification).
At our meeting with ACR, we discussed ways in which ACR and Choosing Wisely could authentically collaborate; ways I would not have imagined prior to the meeting. Leveraging resources through collaboration and partnership amid a community of learners has been one of the hallmarks of the campaign.
We also learned about ACR's many programs—such as R-Scan and Imaging 3.0—that have sought to optimize imaging use. Most impressive and important is their Appropriateness Use Criteria that will be used in reviewing referrals to radiologist practices in order to educate referrers on optimal imaging requests.
During the course of our dialogue, ideas emerged about the shape of further collaborations between ACR and Choosing Wisely. What was remarkable was how Choosing Wisely and ACR's many activities could be synergetic rather than being seen as in competition with each other. We discussed methods for sharing resources for lower back imaging and headache/head injuries among the Choosing Wisely grantees and how R-SCAN and Imaging 3.0 could be used by delivery systems that are implementing Choosing Wisely recommendations.
The Roadshow meeting with ACR marked the start of closer collaboration with a Choosing Wisely partner. We hope all of our future Roadshow meetings will follow this formula of bringing our specialty society partners and ABIM Foundation together to advance our shared purposes.

Daniel B. Wolfson
EVP and COO, ABIM Foundation
More In Letters from the Foundation
View All