Choosing Wisely® Roadshow: A Visit to the American Society of Clinical Oncology
February 19, 2016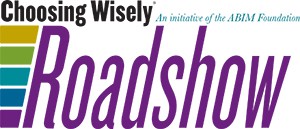 We have decided to hit the road and visit some of the Choosing Wisely partners to find out more about their current efforts to reduce low-value care and learn how we could continue to engage them in the campaign. Most importantly, we wanted to hear their advice on what the ABIM Foundation should be doing to further advance the campaign. Our first visit was to the American Society of Clinical Oncology (ASCO), which seemed appropriate as they were one of first specialty societies to join the campaign. Their active participation in the development of Choosing Wisely positively affected how the campaign was ultimately operationalized.
ASCO credits Choosing Wisely with adding momentum to its existing movement around high-quality, high-value cancer care.  ASCO launched its formal quality improvement program back in 2006, and began certifying practices in high-quality care in 2010.  Since Choosing Wisely's launch in 2012, ASCO has gone far beyond what the campaign has asked of them. In addition to developing and submitting not just one, but two Top 5 lists, ASCO has now incorporated the first of its Top 5 lists into its Quality Oncology Practice Initiative (QOPI®) program to measure quality improvement in the five specific areas identified for Choosing Wisely.
Beyond that, ASCO is now tackling the larger issue of value in cancer care, a major concern for the Society given the high cost of cancer therapies. ASCO has developed a value framework that will ultimately form the basis of a user-friendly tool for physicians to use with their patients to help them weigh their treatment options by aiding oncologists' ability to assess the relative value of clinical options with their patients, based on clinical benefit, toxicity and cost. In developing its value framework, the fact that ASCO has put all three factors into this kind of analysis is precedent-setting. In addition, the fact that this work is evidence-based and intended to help start a conversation between patients and physicians and improve the quality and value of patient care embodies the goals of Choosing Wisely.
Most recently, ASCO began building CancerLinQ, a cutting-edge health information technology platform that will revolutionize cancer care by aggregating and analyzing a massive web of real-world cancer care data in order to provide real-time quality feedback to providers and uncover patterns that can improve care.
I am incredibly proud and humbled by their innovations and leadership. Their advice to us was to continue our efforts to bring Choosing Wisely to medical students and residents. ASCO leadership also suggested developing toolkits for implementation, answering questions, such as: "How does a practice build the infrastructure to support changes in practice and create measures that will permit monitoring quality improvement initiatives?"
Before I left the meeting, ASCO's CEO, Dr. Allen S. Lichter, looked straight into my eyes and said, "Whatever you do, do not end this campaign."
I left thinking that after three years of running the campaign, we have just begun; there is so much more to do.

Daniel B. Wolfson
EVP and COO, ABIM Foundation
More In Letters from the Foundation
View All