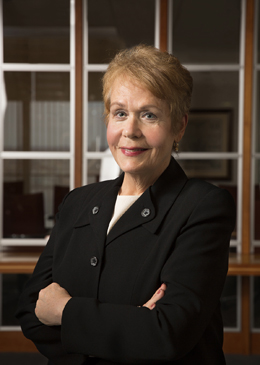 Ms. Judd is a journalist and independent communications consultant focusing on health care issues. She is currently a Special Correspondent for the "PBS NewsHour." Ms. Judd's career as a nationally recognized reporter and anchor began at National Public Radio, followed by CBS Radio and then ABC Television News where, for more than 15 years, she reported for "World News Tonight," "Nightline," "Primetime Live" and "Good Morning America." At ABC, on the domestic front, Ms. Judd covered health care policy, social welfare issues, Congress and the Supreme Court. Internationally, she reported on the democracy movement in China, Eastern Europe after the fall of the Berlin Wall and the buildup to Desert Storm in Saudi Arabia. Ms. Judd received numerous awards in her journalism career including an Edward R. Murrow award, National Emmys, a DuPont, the first-ever David Bloom award, a citation from the Overseas Press Club, and others.
After leaving ABC News, Ms. Judd joined the Kaiser Family Foundation in 2003 to continue her involvement in health care issues and policy. There she contributed to the Foundation's pioneering efforts to train journalists in the coverage of HIV/AIDS in countries and regions with emerging epidemics. She edited and contributed to a reporting guide for international journalists covering AIDS. During her tenure at Kaiser, Ms. Judd's activities included the production of numerous documentaries, including several on Medicare and Medicaid; leading panel discussions and webcasts for the Kaiser Family Foundation as well as for the independent news service it funds, Kaiser Health News. Ms. Judd was awarded a CINE Golden Eagle for her documentary covering the impact of Hurricane Katrina on health care for disadvantaged residents of New Orleans.
Ms. Judd serves on the Board of Trustees of the ABIM Foundation and on the Advisory Board of the Community Foundation of Montgomery County, Maryland.
She graduated from American University in Washington, D.C., with a bachelor's degree in broadcast journalism and government.