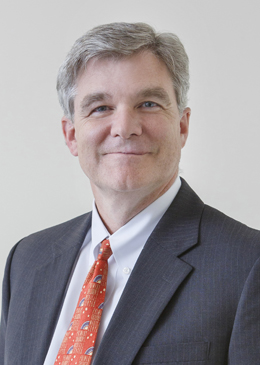 Gregory P. Poulsen, MBA, Secretary-Treasurer
Mr. Poulsen is Senior Vice President and Chief Strategy Officer for Intermountain Healthcare. Based in Salt Lake City, Intermountain Healthcare includes 22 hospitals and associated delivery services in the Intermountain West, a successful physician group practice, and the state's leading health insurance organization. Intermountain employs 34,000 dedicated associates. Mr. Poulsen is the Secretary-Treasurer of the Board of Trustees of the ABIM Foundation.
As a member of Intermountain's five-member Management Committee, he shares responsibility for the breadth of operational and strategic issues of the organization. Mr. Poulsen has had direct responsibility for strategy development, research and planning, marketing and policy for more than 20 years. He joined Intermountain Healthcare in 1982.
Mr. Poulsen has been a consultant to the Swedish Health Ministry and has provided counsel on health policy development in several countries, including Great Britain, Canada, France, New Zealand, Australia, Norway and Germany. He was a Commissioner for the Commonwealth Fund in Washington, District of Columbia, and participated in the development of the policy papers "Bending the Curve" and "Why Not the Best," which have helped shape the discussion on health policy in America. He is a national faculty member of the Stanford University School of Medicine and a guest lecturer at the Stanford Graduate School of Business. He serves on the boards of many community organizations, is the co-Chair of Utah's Exchange Advisory Board, and is a Board Member and past Chair of the Utah Foundation, a nonprofit public policy research organization. He has appeared frequently before Congressional committees and participates in many national and international health policy forums.
Mr. Poulsen holds a bachelor's degree in biophysics and a master's of business administration degree from Brigham Young University.