Building Trustworthiness by Addressing Uncertainty in Medicine Grant Program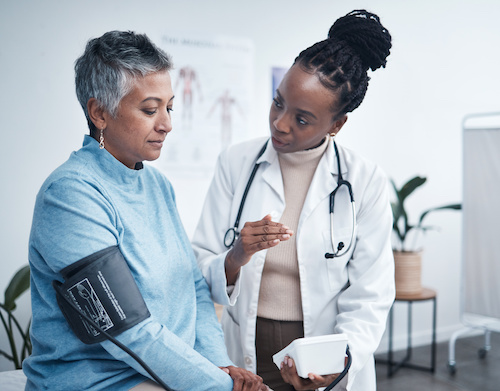 Despite Sir William Osler's oft-quoted dictum that "Medicine is a science of uncertainty and the art of probability," few physicians receive training in how to effectively manage clinical uncertainty, particularly in the context of building and maintaining patient and collegial trust. There is clear evidence that the manner in which uncertainty is communicated to patients is crucial to the fiber of physician-patient relationships, and that its communication among clinical team members is crucial to patient safety.
In addition, stress from uncertainty has been associated with depression and burnout in physicians. Fortunately, acknowledgement and management of uncertainty are increasingly recognized as important goals of both medical education and reflective practice. However, as of yet, there are no well-established skills-building curricula or reliable assessment methods to help develop students or trainees to manage and communicate uncertainty in medicine. Some guidance exists for managing uncertainty in specific contexts (e.g. diagnosis, ED discharge, and ICU-ward transitions), but in general the field is lacking proven educational strategies to help clinicians thoughtfully embrace and communicate clinical uncertainty in ways that build and do not diminish trust.
The ABIM Foundation seeks to develop a learning experience and assessment methodology that will help fill this gap.
Our overall goal is to promote English language educational approaches that will guide physicians' acceptance of uncertainty as a routine part of clinical practice and help them communicate uncertainty to their patients, physician colleagues, and interprofessional team members.

Our objectives are to design, test, and implement formal skills-based training in communication of uncertainty across the continuum of medical education, from medical school through residency and continuing medical education.
We are open to a broad range of approaches but have a particular interest in proposals that focus on interprofessional teams and how communication around uncertainty can strengthen their cohesion and collaboration and how that process can be optimized in racially and ethnically diverse teams.
In addition, applicants should note that the Gordon and Betty Moore Foundation has committed to support one grant, with a preference for supporting a project to advance the communication of uncertainty during the diagnostic process.
Training: The Foundation is interested in methods/learning experiences that can equip students, trainees and practicing clinicians to be able to:
Be aware of one's own feelings and emotions as a facilitator or barrier to effective communication around uncertainty.
Comfortably communicate clinical uncertainty to patients, families, and colleagues.
Effectively respond to patients' emotions in ways that strengthen the trust bond.
Collaborate more effectively with all members of the care team to reach an agreed-upon care plan in the face of uncertainty or incomplete understanding of the illness or prognosis.
Collaborate with patients to reach an agreed-upon path forward.
Consider the ethical dimensions of their interactions with and guidance for patients in areas of uncertainty (e.g., balancing patient autonomy and medical expertise).
Assessment: Common forms of assessment in medical education utilize methods where there is one correct answer or at least a series of acceptable answers. By its nature, uncertainty incorporates elements such as ambiguity and complexity that render "correctness" of action, behavior and/or communication a matter of context and relationship. These elements make assessment of this skill more challenging. We are especially interested in learning more about reliable methods to assess communication of clinical uncertainty that take this complexity into account.
Available Funding
We envision providing $120,000 grants to support at least two 2-year projects. We expect that Year 1 would be focused on research, design and testing and Year 2 on implementation of the learning experience and assessment method/s. During the project period, the grantee would be expected to develop an evaluation framework for the learning experience and assessment method(s).
Guidance to Applicants
In general, we encourage novel approaches that can be reasonably and widely integrated into real world training and practice environments. For example, simulation may have a key role to play by immersing learners or teams in situations where they will apply clinical reasoning skills at the point of care in ambiguous situations, make decisions regarding treatment plans, and communicate them with Standardized Patients, followed by the opportunity to review, discuss, and reflect with guidance from experts.
Also, medical educators have seen that the incorporation of visual arts, humanities and narrative medicine has helped students think more flexibly about themselves and the clinical learning environment. These tools can offer great support in helping students, residents and practicing physicians navigate their personal responses to uncertainty, including through expression of, and receptivity to, the interpretations and ideas of other participants (i.e. "team members").
Finally, potential applicants with demonstrated experience in curriculum development are strongly encouraged to submit proposals.
How to Apply
Submit proposals to Tim Lynch, the Senior Director of Foundation Programs at the ABIM Foundation, at tlynch@abim.org by June 16, 2023.
In no more than 10 pages, please describe:
Proposed learning objectives.
The elements of the proposed educational approach and pedagogical methods.
The theory of change — how the program will change knowledge, skills and attitudes.
Proposed methods for assessment of objectives and impact.
Your and/or your team's experience in developing clinical learning and/or assessment experiences, particularly in clinical decision making.
How the project would involve collaboration among physicians, other members of the care team and patient and family members in the co-development of learning and/or assessment experiences, including any experience in doing so.
The project team's ability to partner with patient organizations and organizations focused on interprofessional education.
How the project would address diversity and cultural differences to maximize its effectiveness across population groups.
A strategy to disseminate your educational program nationally.
The team members who will be directly involved, and any subcontractors/partners.
Timeline/key milestones.
Budget: include direct and indirect costs (not to exceed 10%) – including personnel, contracted services, materials, etc. Please provide a brief narrative section that provides a concise overview of the budget.
FAQ
The ABIM Foundation hosted question-and-answer sessions about this grant program on May 1 and May 11, 2023. Here are questions that were asked during those sessions and the answers that ABIM Foundation staff provided. If you have additional questions about the program, please contact Daniel Wolfson (dwolfson@abim.org) and/or Tim Lynch (tlynch@abim.org) at the ABIM Foundation. 
Q: When do you expect that the grant period would begin?
A: Our plan is to award grants by early August, with projects beginning on September 1.


Q: How many grants will be awarded?
A: We will award either 2 or 3 grants depending on participation by other funders; each grant will be for $120,000.


Q: Will you accept an application that includes several institutions?
A: We very much welcome projects that involve multiple institutions. That said, we prefer to make a grant to a single institution. The lead institution is welcome to contract with/subgrant to other project partners.   


Q: Should applicants provide evidence of support for their proposal from institutional leaders?
A: Yes, we encourage letters of support from institutional leaders.


Q: Are there categories of funding that cannot be included in the proposed budget?
A: Equipment purchases may not be included; indirect costs are limited to 10 percent. 


Q: Is there a preference for projects that are led by physicians?
A: No.


Q: Should trustworthiness be a major focus of proposed projects?
A: The funders believe that communicating uncertainty more effectively is an important strategy for building trust both within care teams and with patients directly; projects are not required to address trustworthiness explicitly, but doing so would be welcome (e.g., How can trustworthiness be expressed through conversations about uncertainty?)


Q: Do you have a preference between funding research and curriculum development?
A: We are interested in funding the development of durable, practical, and sustainable curricula, and in having the project teams evaluate the success of their curricula. Project teams are welcome to conduct additional related research, but that will not be accorded weight in funding decisions.


Q: Regarding your desire to fund inter-professional projects, are you more interested in (a) curricula aimed at a physician audience that address working with other clinicians, or (b) curricula aimed at an audience of varying clinical backgrounds? 
A: We prefer curricula aimed at an audience from varying clinical backgrounds.


Q: Do you expect that the product developed through the grant would work both within a structured academic curriculum and as a freestanding product that an individual provider or group could use?
A: Yes, that is the ideal. The product should benefit individuals across the spectrum from medical students through practicing clinicians.  


Q: Is it acceptable for a proposed curriculum to employ different approaches for learners at different levels of training/experience?
A: Yes.


Q: Is there a preference for the type of uncertainty an approach addresses? (e.g., related to diagnosis, prognosis, treatment decisions, etc.)
A: We hope to fund a portfolio of projects that collectively address a variety of types of clinical uncertainty. As stated in the RFP, we do prefer to fund at least one project related to the communication of uncertainty during the diagnostic process.


Q: There are multiple models for addressing uncertainty. Is there a particular philosophy that you would prefer be incorporated?
A: No. We have reviewed many thoughtful models and approaches but are not wedded to any particular one.


Q: Do you prefer projects that integrate technology in sophisticated ways?
A: A sophisticated integration of technology is not a requirement but projects that involve clinicians accessing information or curriculum principles during the clinical encounter would be of interest.


Q: Do you prefer formalized curricular approaches (as opposed to, for example, approaches geared to the "hidden curriculum")?
A: The preference is for direct and durable approaches that will offer value within a practice or institution over a long period of time, and that are transferable. 


Q: Regarding dissemination, is the funders' goal to support curricula that can be replicated at other sites?
A: Yes. We would like to see the programs funded through this grant program be disseminated through the country. We don't want to support the development of programs for single institutions, but rather to help build programs that are attractive enough for others to adopt. As such, grantees should have a plan for dissemination.


Q: How fast do you expect to see outcomes?
A: We expect that the first year of the grant would be focused on design and testing of the program, with the second year focused on implementation and evaluation of the learning experience and assessment method(s).