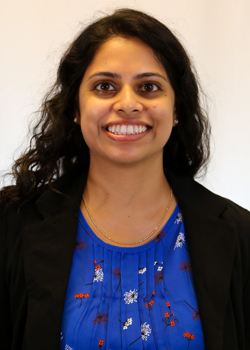 Monica Yalamanchili, MSW, MS
Monica Yalamanchili is a Program Associate for the ABIM Foundation. In this role, she manages the ABIM Foundation Forum as well as other professionalism-related activities, such as the John A. Benson Jr., MD Professionalism Article Prize.
Prior to joining the Foundation, Ms. Yalamanchili was the Grants and Program Evaluation Coordinator at the Philadelphia Ronald McDonald House, where she analyzed survey data, assisted with special events, improved internal operations, and managed the grant application and reporting processes. Previously, she held internships at numerous organizations, including the Office of Advancement at the University of Pennsylvania College of Arts and Sciences, the Nationalities Service Center, and Intercambios Puerto Rico.
Ms. Yalamanchili holds a Bachelor of Arts degree in Spanish and a Bachelor of Science in Psychology from St. Bonaventure University. She completed her graduate education with a Graduate Certificate in Global Human Rights, a Master of Science in Social Policy, and a Master of Social Work from the University of Pennsylvania School of Social Policy and Practice.