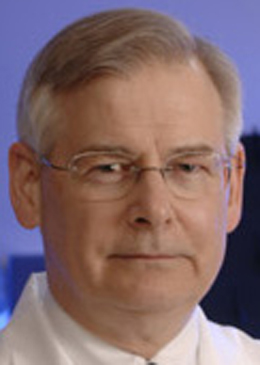 Dr. Johnson, board certified in Internal Medicine and Medical Oncology, is Chairman of the Department of Internal Medicine at University of Texas (UT) Southwestern Medical Center in Dallas, Texas, and holds the Donald W. Seldin Distinguished Chair in Internal Medicine. In addition to serving on the ABIM Foundation Board of Trustees, he is Past Chair of the American Board of Internal Medicine Board of Directors. Previously, he served on the ABIM Medical Oncology Board from 2001 to 2011 and was its Chair from 2007 to 2011.
From 2004 to 2005, Dr. Johnson served as President of the American Society of Clinical Oncology (ASCO) where he helped advance the society's quality of care activity, Quality Oncology Practice Initiative (QOPI®). He also led an effort to establish ASCO's Cancer Survivorship Program. Dr. Johnson has served on the Food and Drug Administration's Oncology Drug Advisory Committee, as Chairman of the Thoracic Committee of the Eastern Cooperative Oncology Group and on the Boards of Directors of the National Comprehensive Cancer Network, the International Association for the Study of Lung Cancer and the LIVESTRONG Foundation.
Dr. Johnson is an elected member of the Association of American Physicians, a Master of the American College of Physicians and the recipient of Established Investigator Award from the Cancer Research and Prevention Institute of Texas. In 2016, he received the Distinguished Achievement Award from the American Society of Clinical Oncology. He has authored more than 400 journal articles and 40 book chapters and edited four oncology textbooks.
Dr. Johnson earned his medical degree from the Medical College of Georgia and obtained his medical oncology training at Vanderbilt University where he served on the faculty for 29 years, the last 19 of those as the Director of the Division of Hematology and Oncology, before relocating to UT Southwestern in 2010.